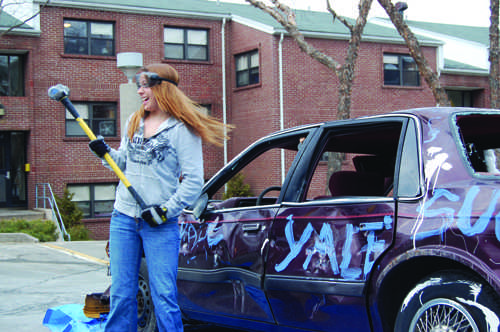 "Car-smashing" was the order of the day for Quinnipiac students last Saturday during their pre-hockey game pep rally: the university's Student Programming Board purchased a beat-up 1987 Buick and painted the phrase "Yale sucks" all over it, then offered students a sledgehammer to demolish the automobile, according to an article published today by the Quinnipiac Chronicle.
The "car-smashing" was one of the highlights of the Bobcat Rally, the last event of the college's "Spirit Week."
"The Bobcat Rally has helped bring students together for a common cause, which is to beat Yale," Frankie DiSomma, a Quinnipiac sophomore, told the Chronicle. "This not only helps get people passionate about sports, but to foster campus unity and facilitate interaction all across the social spectrum."
Despite the tactics, you can't argue with the results: Quinnipiac eked out a 4–3 win against Yale in Saturday night's men's hockey game.
(Photos: The Quinnipiac Chronicle)