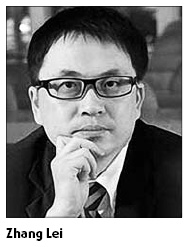 Though University officials were overjoyed last week to announce that Lei Zhang GRD '02 SOM '02 plans to donate $8,888,888 to the School of Management to help construct its new campus, Zhang has garnered criticism in China for not using the money to invest in education in his home country, according to a report Monday by The China Daily.
From the story "Donation to Yale sparks debate" by Ai Yang:
Opinions at home have been split in online forums since the story broke a few days ago. On pinggu.org, a forum run by Renmin University of China where Zhang was enrolled as a student of International Finance in 1989, netizens including alumni of the university have taken sides.

Some asked why Zhang, who graduated from Yale less than 10 years ago, chose an overseas institution rather than his Chinese university for the donation.
Click here to read the full article from The China Daily.